SPIRIT OF 66



10/12 MACHIAVEL

COMPLET SOLD OUT


Ça, c'est pour la bonne nouvelle…. That's the good news...
Malheureusement…..
la triste nouvelle c'est que nous venons encore de perdre brusquement un de nos amis parmi les habitués les plus acharnés du Spirit of 66.
Qui ne se souvient pas de PIERRE, grand gaillard débonnaire, toujours de bonne humeur et énergique…. Lui qui venait en train de la région d'AMAY et pour lequel je cherchais souvent un chauffeur « de la région de Huy » pour le ramener à la maison après le concert,… faute de quoi il était obligé de dormir à la gare de Verviers en attendant le premier train du matin.
On peut dire que Pierre faisait vraiment partie de la « Spirit Family », il lui arrivait d'assister à 3 ou 4 concerts dans la même semaine et combien de fois ne m'a-t-il pas poser la question : « Qu'est ce qu'on fera si le Spirit ferme un jour ? … Malheureusement , et qui aurait pu penser ça, pour lui la question ne se pose plus. La vie peut parfois être triste et injuste… mais c'est la vie.
Paix à son âme et que la musique le berce, là où il est…et pour toujours !
On peut voir Pierre (pull vert) sur cette photo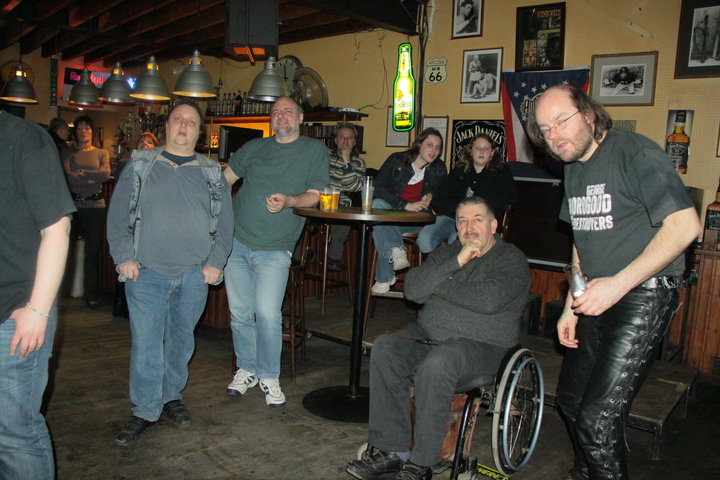 en compagnie d'Alain (en fauteuil roulant), autre grand habitué, lui aussi décédé il y a quelques semaines
Il est probable que ces 2 là sont déjà en train de se remettre en mémoire leurs bons souvenirs du Spirit of 66
Unfortunately ... ..
the sad news is that we have suddenly lost one of our friends among the regulars of the fiercest Spirit of 66.
Who does not remember PIERRE, good-natured big guy, always cheerful and energetic .... He who came by train from the region AMAY and for which I was looking for a driver often "in the region of Huy" to take home after the concert ... or else he had to sleep at the station in Verviers until the first morning train.
We can say that Pierre was really part of the "Family Spirit", he would attend 3 or 4 concerts in one week and how many times did he do not ask, "What will we do if The Spirit closes one day?" ... Unfortunately, and who would have thought that, for him the question no longer arises. Sometimes life can be sad and unfair ... but that's life.
Rest his soul and the music rocks, where it is ... and forever!
You can see Pierre (green sweater) on the photo in the company of Alain (wheelchair), another great customer, he also died a few weeks ago.
It is likely that these two are already recovering in memory their fond memories of the Spirit of 66.
Francis
Spirit of 66
Francis
Spirit of 66
www.spiritof66.be